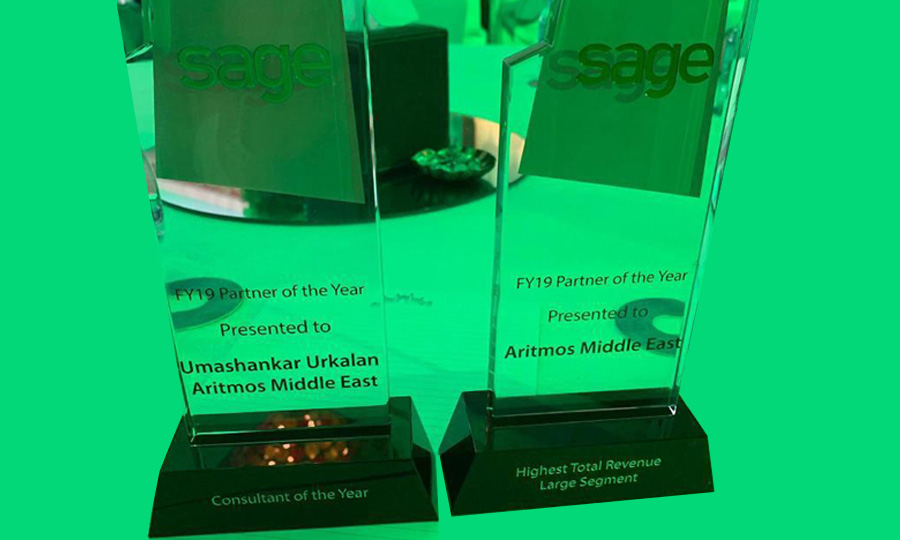 Aritmos, the Spanish technological consultant, consolidates its presence in the Middle East after the awards received from the multinational Sage a few days ago. More specifically, two important acknowledgements that reaffirm the work carried out by the company in the territory in 2019. On the one hand, Sage granted Aritmos the award for "Best Sage X3 Partner", a distinction that acknowledges the work of Aritmos related to the most important business management software (ERP) developed by the multinational. On the other hand, Sage has recognised Umashankar Urkalan, project manager for Aritmos software in the Middle East, as "Best Director of Technological Projects", an award that highlights the complex technological consultancy work carried out by Urkalan and his team with client companies.
These awards were handed out by two heavyweights in Sage in the Middle East, during the Sage Summit gala, organised by the British company in the area, through its delegation, Sage Middle East. The Executive vice-president of Sage in Africa and the Middle East, Pieter Bensch, and the Director of Technical Services and Pre-sales of Sage in the Middle East, Mansoor Sarwar. Both awards were handed out to Aritmos, which has carried out large technological projects, principally in the Arab Emirates and neighbouring countries, and even in African countries, from South Africa to Kenia. After the gala, the CEO of Aritmos, Andreu Salvadó, stated: "After over six years in Dubai, we are consolidating our relations in the territory, with new and more complex technological projects for local clients". "In addition to the awards, we had already been declared as the only Platinum partner of Sage in the Middle East" added Salvadó, an acknowledgement that the multinational seldom grants.
The establishment of Aritmos in the Middle East goes back to 2013, when the leading company in the development of software solutions for the management of companies and technological systems in Spain, opened its first international commercial office in the Silicon Oasis technological park in Dubai, to manage, from there, technological projects in the Middle East. Born in the province of Lleida, the company now has a permanent staff of 12 in Dubai and multiple upcoming technological projects for companies in the area.
Back to News & Articles